Family History Research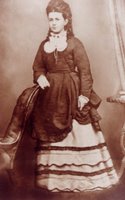 Families-in-Time
was founded in 1999 by Jeanette King. In 1984 she took an advanced genealogy course and in 1986 she became a member of the Society of Genealogists. She has as Open University Diploma in Modern Social History Research and is also an accredited Post Adoption Centre Counsellor.
Families-in-Time
is now well established and has an excellent reputation, both for family history research and for locating birth relatives. Jeanette is extremely professional and believes attention to detail and good communication with clients should be at the heart of every search. She has been consulted by many authors, including
Joanna Trollope
and Anna Maxted, and also by journalists on matters of family history, adoption and reunion. She has been mentioned in the Guardian, the Observer and the Telegraph and was a guest of Gyles Brandreth on BBC Radio 4 to discuss the joys and frustrations of searching for information about your family.

In addition to helping you to discover more about your ancestors, Families-in-Time can also assist in your search for living relatives. For many years Jeanette has specialised in locating birth relatives for adopted adults, and to date she has found people not only in the UK, but also in Australia, Austria, Belgium, Canada, the Cayman Islands, Cyprus, Denmark, France, Ireland, Jamaica, New Zealand, Nigeria, Paraguay, Serbia, South Africa, Spain, Switzerland and the U.S.A.

Living as she does, just ten minutes from the National Archives at Kew and within easy reach of all other major London archives, Jeanette is able to provide an efficient service and to keep costs to a minimum.